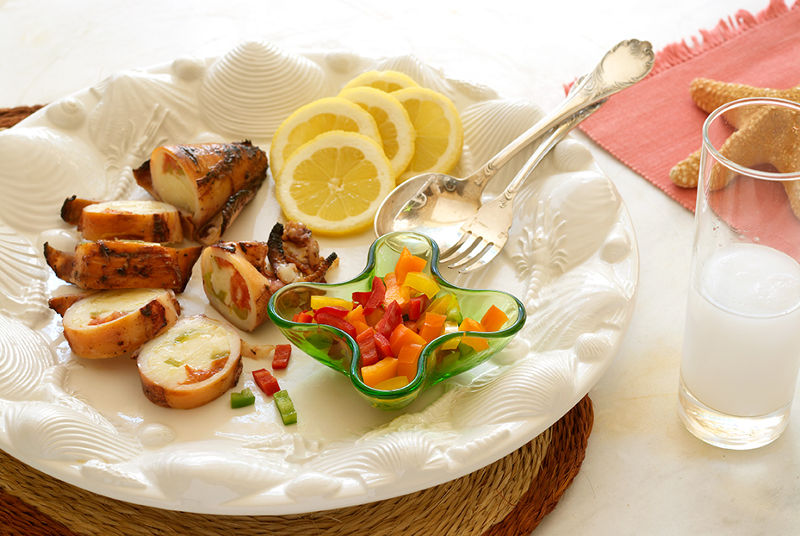 INGREDIENTS
For the marinade
3 tablespoons of olive oil
2 tablespoons of freshly squeezed lemon
Boukovo or freshly ground black pepper
For the stuffing
½ cup of red and green peppers
300 grams of Cow cheese Mastelo®
METHOD
Clean the grill with a wire brush and oil it well. Leave it aside. Prepare the coal fire in advance because you need it to be strong. Separate the tentacles from the squids' bodies and remove the bones.
Use the knife to make a small hole of ½ centimeter on the pointed lower part of the body. Wash and dry well. Put the ingredients of the marinade and the squids in a big bowl and mix thoroughly so that the mixture will be everywhere. Add a tablespoon of sweet peppers and a long piece of Cow cheese Mastelo® inside every squid and seal the opening with a toothpick.
Place the grill very close to the coals and put the squids on it. Make sure the cut is facing upwards. In a little while they will start swelling. Give them a firm pressing to bring them back. Let them brown and form lines and then turn them over. During roasting apply the marinade 2-3 times. You can also roast them in a preheated oven at 220o C for about 15 minutes. Cut in slices and serve with lemons.