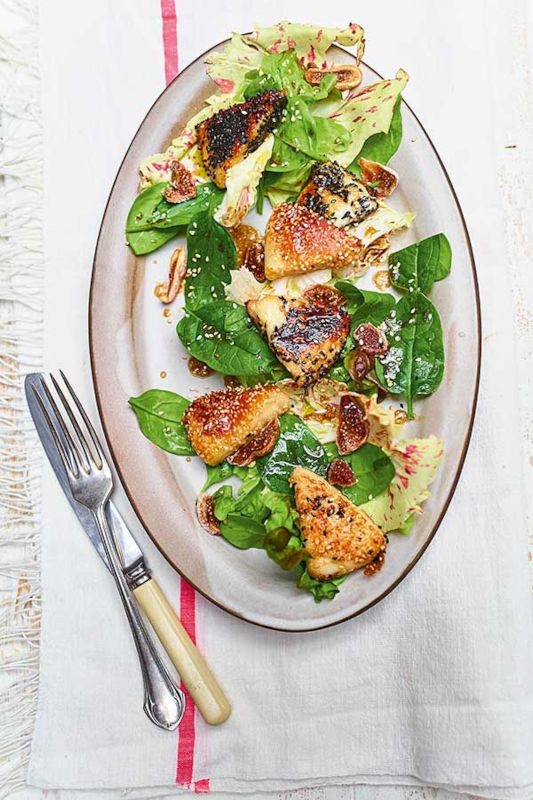 Figs and toasted mastelo cheese are a match made in heaven. This would make a delicious starter, side dish or even light summer dinner, best eaten alfresco.
Photo: David Loftus
Ingredients
(Serves 4)
1 lettuce
100g young spinach leaves
200g mastelo cheese
2-3 tbsp milk, for dipping
2 tbsp white sesame seeds, plus extra for sprinkling
2 tbsp black sesame seeds
extra virgin olive oil, for frying
3 dried figs, very thinly sliced
2 tbsp finely chopped fresh parsley
For the dressing:
3-4 tbsp verjuice (available at verjuice.com)
2 tbsp fig glaze or aged balsamic vinegar
50ml extra virgin olive oil
Instructions
Trim the lettuce and separate the leaves. Wash and drain them with the spinach leaves, then pat dry with a clean tea towel.
Cut the mastelo cheese into triangles, and then cut each triangle in half horizontally. Pour the milk into a small bowl then put the seeds into two separate bowls. Dip the cheese triangles first into the milk, then half into the white sesame seeds and half into the black sesame seeds, to coat all over.
Bring a large frying pan to a medium heat and add oil to cover the base of the pan. Fry the cheese on both sides until golden, then drain on kitchen paper.
Put the lettuce and spinach into a salad bowl. When cool enough to handle, lay the pieces of cheese on top of the leaves.
Whisk the verjuice and fig glaze together in a bowl. Add the oil, initially a drop or two at a time, to make a thick dressing. Season with salt.
Scatter the sliced figs and the extra sesame seeds over the salad, and finish by drizzling over the fig glaze dressing and sprinkling with the chopped parsley.